Pavel Bure & The Heliocentric Offense
A look back at the Russian Rocket's two years with the Florida Panthers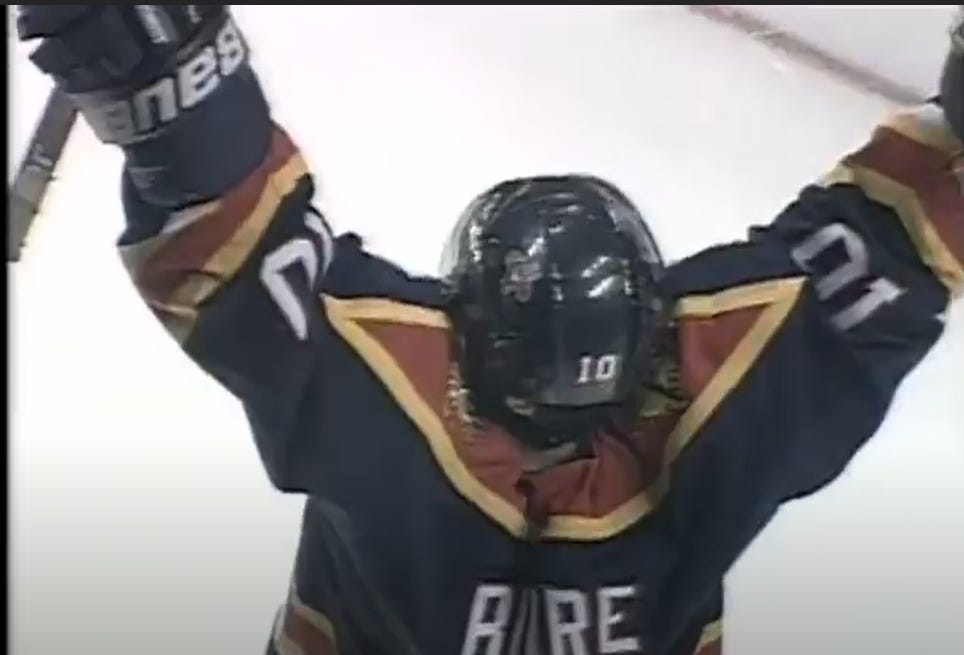 My least favorite topic in sports is the weekly debate on who the most underrated players in the league. The conversation usually centers around very good players on teams that are either in the Western Conference or play in a smaller market or aren't on national television. You hear a lot of the same tropes like how "this guy would be a star if he played in Toronto or Montreal" or "he plays while everyone is asleep." It's actually kind of funny if you watch any Eastern broadcast when they play a team like Los Angeles or Vancouver. They'll talk about these teams like they're seeing a Tauros or Kangaskhan in the Safari Zone instead of just a team that plays in a different time zone.
Pavel Bure checked both of these boxes, spending most of his career in Vancouver & Florida, but he was always too good to get the "underrated" tag. He earned a spot in the Hall of Fame and was an All-Star in every full season that he played. He did have that mystique about him, though. Or at least he did to me as a nine-year old hockey fan. Bure was that high-octane goal-scorer that you never got to see on television unless it was the All-Star Game or when the Panthers played in Washington. I remember Sports Illustrated for Kids doing a bunch of features on him. He was a perfect player for that Playstation generation of video games, with more realistic graphics and shooting features taking center stage.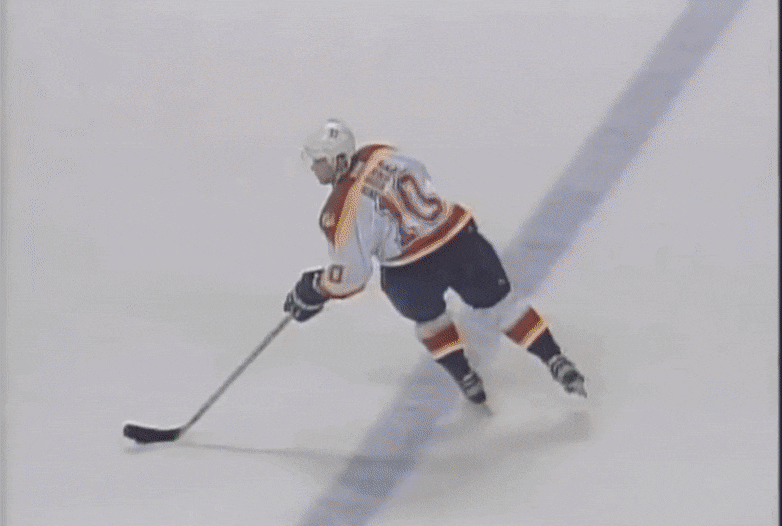 I never watched him play a full game before. The Panthers were on TV more than they are now, but it wasn't like I was setting aside time on a school night to watch any of those games. Still, shows like Sportscenter and NHL 2Night would feature him all the time and I knew who Pavel Bure was even as a casual fan. He would be a must-watch on NHL TV if he played today, that's for sure. It's a shame that injuries cost him so many games because he was one of the few players whose firepower was immune to the Dead Puck Era. Anyone with a decent shot could score 40+ in the early 90's, but even as the trap and goalies slowed the game down, Bure recorded three seasons with 50+ goals from 1997 to 2001.
Two of those seasons were with the Florida Panthers, which is what I want to spotlight here. Florida was a team that was struggling to find their way after an incredible run to the Stanley Cup Final in 1996. Relying on the likes of Scott Mellanby & Ray Sheppard to carry the load wasn't working for them, so they made the trade for Bure to give themselves a real star player. Combine that with players like Viktor Kozlov & Ray Whitney coming into their own & Bure ended up having an electrifying two and a half years in South Beach (or Sunrise, I can't remember if they moved to the new arena).
Stats for are from Hockey-Reference

Bure's best seasons come in two phases. Two of his Vancouver seasons are on this list but it's the two Florida years I want to talk about because of the massive goal-scoring burden he carried. Granted, that's only 20-25% but that's still a higher percentage than most players now with teams being slightly more balanced now. His 1999-00 season in particular was pretty special. He scored almost 25% of the Panthers even strength goals that year, only two players since 1990 have a rate higher than that (1998 Selanne & 2012 Stamkos). He missed eight games and still scored 45 goals, which nobody was able to do until 2012 when Stamkos scored 48. Bure saw his even strength production dip the following year, but his overall burden went through the roof, scoring almost 30% of the Panthers goals. Since 1990, no player has handled the much of a team's goal-scoring burden and the two closest to Bure are Bret Hull's 1991 season where he scored 86 goals.
Friend of the blog, Chris Watkins (@yolo_pinyato) pointed me in the direction of the basketball concept of heliocentrism, or having the offense revolve around one player. It's something that could be applied to hockey, but it's a little different in this instance since we're only looking at goals. It's also tougher for one player to have the impact they do in basketball because your stars are playing maybe half the game at the top end and it's tougher to score in general. Bure's tenure with the Panthers might be one of the few instances where it applies, at least from a goal-scoring standpoint.
I wanted to take a closer look at Bure's two years in Florida and found some games on Youtube to see what he was all about and how the Panthers worked around him.
The Highlights
As someone who didn't see much of Bure while he was around, it was really interesting to see him play from a tracking standpoint. He was a bit of a throwback player with how often he scored from distance or on solo rushes. Yet he almost never went end-to-end on his own. The Panthers usually had to put a couple of touch passes together in the neutral zone to get him loose with the two-line pass rule. He was almost like hockey's version of a three-point shooter because he could score from distance & was almost automatic no matter where he shot from. Defenses were "tougher to play against" at the time, but there was also more space to operate for someone like Bure to get the shot he wanted.
It's fair to ask how much help someone like Bure needed because if you watch a lot of his goals, they aren't your typical slapshot off a one-timer (he actually set more of those up) or him capitalizing on a great play. All it took was a couple of quick passes or Bure camping himself out in the neutral zone for him to get enough space to create a chance.
Take this clip for example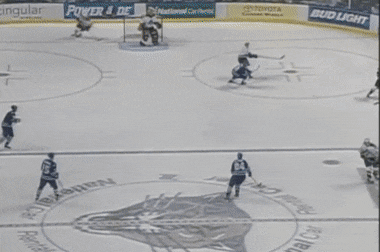 This would objectively be a bad decision now, especially on the power play, because it's so rare for a forward to score from long range. Just look at the amount of time Bure was given to setup. Everyone in the building including the two Toronto defenders in the clip had to know what he was doing here and yet they still took their chances with letting him have the shot. I'm not sure if this would even be allowed today with how quicker defense are to take away your time & space, but most defenders are told that it's okay to give up shots from outside the faceoff dot because your goaltender should stop those shots if he can see them. Bure was just an entirely different animal because he could score form there.
Look at this chance from their playoff series against the kings of defensive hockey, the 2000 New Jersey Devils. Florida was at the tail end of a dreadful looking power play where they couldn't even enter the zone, let alone setup a shot. Their final resort was just getting Bure to a side of the ice where the penalty killers weren't & having him create his own shot from the boards. He was able to get the shot on Brodeur, past a defender and a teammate screening him, to create a decent chance. It wasn't too different from the goal he scored earlier in the game even if it was from further away. He just had the rare ability to create chances out of shots that would be blanks for almost anybody else.
Could it have worked today? Honestly, I don't know. We've seen incredible shooters like Stamkos & Ovechkin make their money off great passing plays & individual efforts that I would have to think there's a place for Bure's unique style of creating offense. Assuming we're getting him with a clean bill of health, Bure would be perfect for today's NHL where stretch passes are aplenty and transition rules the game. Defensemen are quicker to take away space now, so he would have to make some adjustments, but this is a guy who stayed a top goal-scorer through the 90's and the Dead Puck Era, so I would have to think he could fit into today's game where skill is more of a focus.
2000 vs. 2001
Going back to the heliocentric model, I wanted to take a closer look at what went on with the Panthers while Bure was there. In his first year, they were a pretty good team. Not a great team, but Bure had some good running mates in the form of Viktor Kozlov in Ray Whitney. That Panthers team had no shortage of good-but-not-great role players who could get you 40-50 points in a good season and they were 6th in the league in goals scored. The following year, Bure had an even better season but their support scoring dried up. Kozlov was their only player even close to scoring at a 20-goal pace with 14 goals in 53 games. Ray Whitney scored only 10 goals before being traded to Columbus and rookies like Olli Jokinen were still finding their way in the league. Bure's supporting cast was reduced to Kozlov & guys playing above their depth like Marcus Nilson. It didn't affect Bure's ability score goals, but the Panthers ended up falling from 6th in the league in goals to 24th.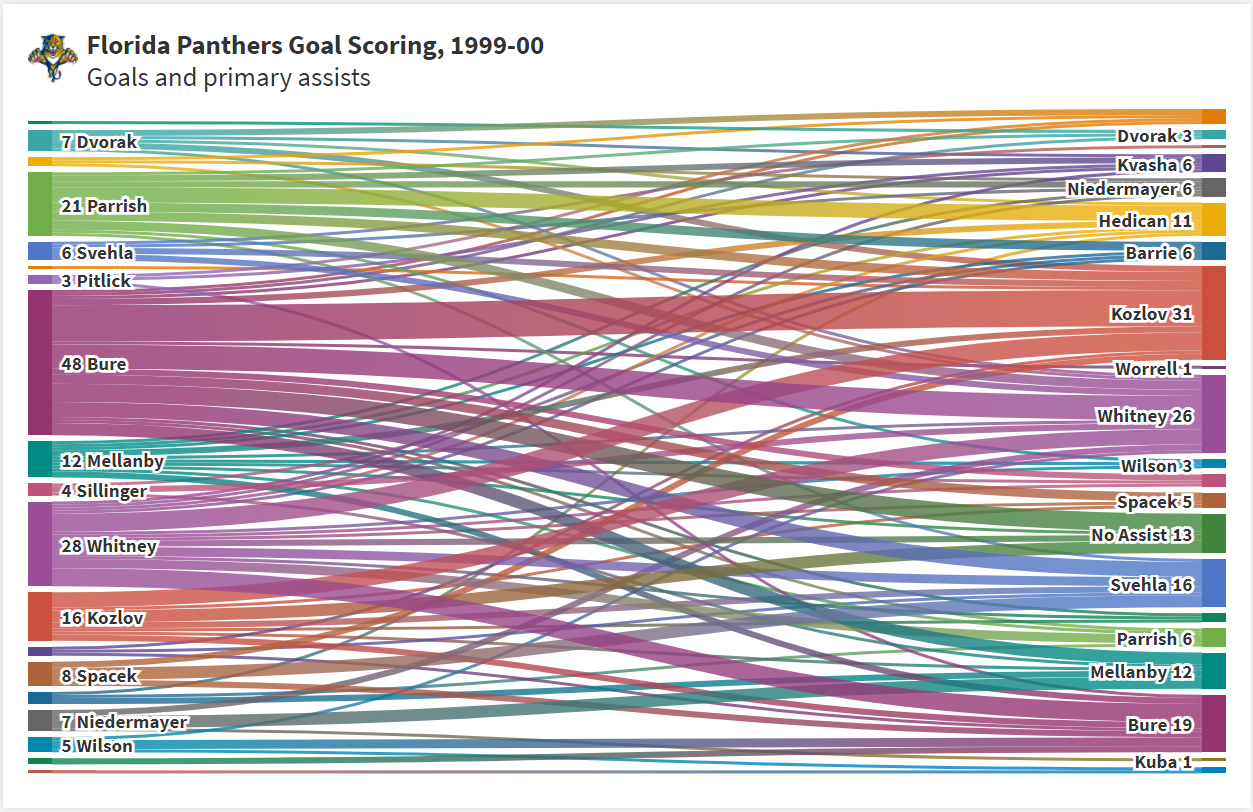 When looking at where the Panthers goals came from in Bure's first year, you can see that Bure, despite being the primary focus of the offense, had a little help from his teammates. Whitney, Kozlov, Parrish & Mellanby were able to produce some offense on their own, taking some of the burden off Bure. I only got to track three regular season games from this year, but it's worth nothing that Bure wasn't playing with Whitney or Kozlov in those games. Florida had just enough depth that they could at least attempt to spread the wealth. Now, compare this to their 2000-01 scoring and you'll see a huge difference.
Florida wasn't heliocentric in the same way that most basketball teams are, but Bure was going to have to be involved in some way, shape or form. Notice the spread in where his assists came from. Florida lacked any sort of playmakers this year, which left Bure on even more of an island than he ever was. It doesn't speak well to the team Florida sent on the ice, but it is really impressive just how much of a workload Bure was able to carry considering the lack of help around him. Notice how even some of their better players like Kozlov became even more reliant on Bure for points, Kozlov recording eight of his 15 primary assists off Bure goals.
Diving into the tape & some of the microstats also paints an interesting contrast of the two teams. Ivn the two games that I tracked, Bure wasn't Florida's only option for entering the offensive zone. He recorded only eight entries at 5v5 and only four of them were with control. It's still a decent amount, but in the middle of the pack of Panthers forwards and behind some of his own linemates like Mellanby (10 entries), Whitney (11 entries) & Kozlov (16 entries). Would it hold up over a full season? I'm not sure. However, you can see some of what the Panthers were trying to do when it came to getting Bure the puck.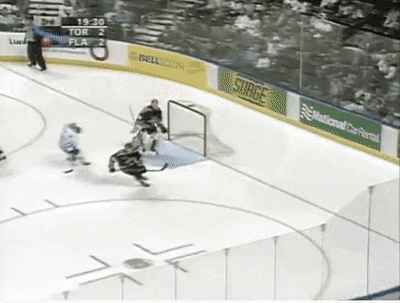 There were so many times Florida tried this. They wanted to get Bure with someone else behind the defense the second possessions witched in the defensive zone. That way, he's not entering the zone alone and someone can set him up for an easier entry or scoring chance. Mellanby was the lucky off-winger who got the assist & the entry off this one. In this particular game, Bure shot the puck seven times, with four of those shots coming off an assist from the neutral or defensive zone. It makes sense. Even if Bure can beat defenders one-on-one and score from everyone, you still want to make his job easier by getting him the puck with speed and making his job easier. Florida did a pretty good job with this in the games I watched. He wasn't the only one who benefitted from it either. Just ask Ray Whitney.
and to think that guy who scored this goal is called The Wizard for his playmaking.
Unfortunately for the Panthers, this didn't carry over into their playoff series against the Devils, as they scored a total of six goals over four games and Bure found the back of the net only once. I tracked Games 2 & 4 of this series and while Bure had plenty of chances, the Panthers didn't attack the zone with him the same way they did in the regular season. Instead of him being the support player entering the zone, he was the main one leading the rush for Florida, often alone or with all his teammates covered by Devils.
In the two games that I tracked, Florida had 114 zone entries at five-on-five, 44 of them were with possession and 11 of them were by Bure. This means when the Panthers had the puck, they were resorting to shoot-ins & spent most of their time trying to get the puck back unless Bure was on the ice. Even good players like Whitney were struggling to get anything going in the neutral zone and had to work to get the puck back. Seeing how dumping-and-chasing against this Devils defense is like trying to surf from Fuchsia City to Seafoam Islands without any repels, this type of hockey didn't bare much results against the Devils. The worst part is that for the most part it's all you could do against them with how stingy their defense is. Scott Niedermayer, Scott Stevens & Brian Rafalski were in the face of anyone who tried to enter the zone against them at the blue line and you had to be creative or be incredibly lucky to even get a puck to Brodeur. What's frustrating is that despite all this, most of these games were tied or within a goal until the third period. When Florida could get Bure some daylight, something like this usually happened…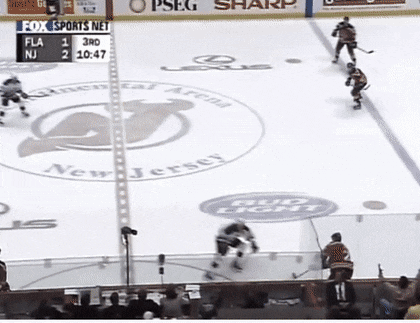 Yeah….them's the breaks.
This series was a small preview of things to come for the Panthers, as we already outlined how much of a one-man team they were the following year. I'm not sure they envisioned it being this bad, though. Injuries were a problem and so was the decline of some of Bure's former linemates like Mellanby. I didn't gain much of the team in the two 2001 games I tracked. They were dominated by a superior Detroit team in the first game, their only goal coming from Bure on the power play where he deflected a shot in front of the net (showing how many hats he had to wear that year).
The follow-up game against the Toronto Maple Leafs was the exact opposite with Bure recording a hat trick & the Panthers dropping a 5-4 decision after giving up three unanswered goals in the third period. They were similar in that they could only create offense if Bure was on the ice, yet different because they could at least hang with a playoff-bound team like Toronto and stay "in the hunt" despite their injuries and poor depth. Given how they finished the season, it's likely that the Detroit game is closer to who they actually were. Still, Bure had to make the most of this broken Rubik's Cube of a roster and the end result was one of the best seasons of the Dead Puck Era, mostly because that was his only option.
There's more to expand on with this. I'd love to track more games obviously, but seeing his scoring network in Vancouver from the two years before the trade would be interesting, as well. It's tough to draw conclusions with just microstats alone when so few games are available online, although they did make it easier to show how Bure was so dangerous even on a bad team. Maybe I could look into who some similar players are today using the passing & zone entry data? Either way, I had a look of fun opening up the time vault and taking a closer look at a player who I didn't get to see much of as a kid.
Thanks for reading! Stay tuned for Sara's post later in the week! Visit my Patreon if you want access to the zone entry passing data or visit my Tableau page linked in the article.