Roman Josi, breaker of scales
Defensemen are more skilled than ever, how can teams make the most of it?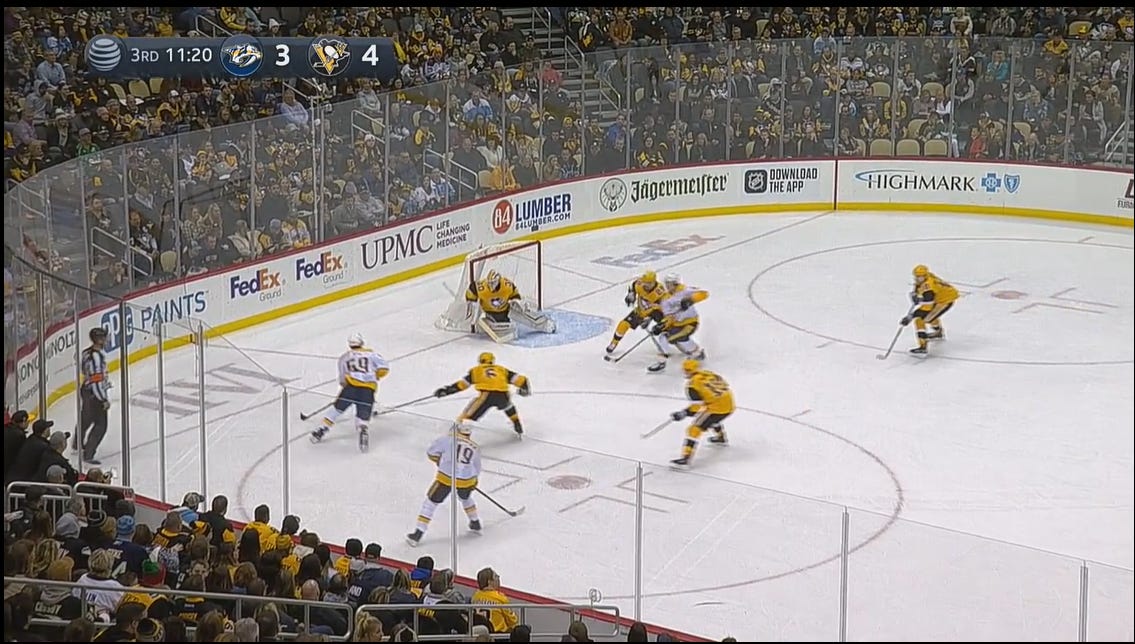 Evaluating defensemen is an exhausting process. If you want to send Hockey Twitter into disarray for a few hours, post a ranking of who the Top 20 Defensemen in the league are. The elites like Victor Hedman are easy to pick out, but outside of the top five it gets messy. Hell, even ranking the top three can be a daunting task when you look at how much controversy there is over the Norris nominees every year. With so many differing opinions & the variety of tools for analysis we have now, you're going to get a mixed bag of results.
What is interesting to me is how offense is basically expected out of you if you're going to stick in the NHL now. Going end-to-end on a rush or making a beautiful stretch pass through the neutral zone to setup a breakaway used to be something only a couple of players on your roster could do. Now, it's expected out of almost everyone, or at least it is if you want to be considered one of the best. Being able to make a breakout pass or skate out of the zone is basically a requirement to stick at the NHL level now, though.
I just think of how much things have changed over the past decade. Sure, you had blue-liners like Duncan Keith put up gaudy point totals every year & great skating defenders throughout the league like Brian Campbell, Joni Pitkanen & Keith Yandle. Defensemen leading rushes on their own, however, wasn't as common as it is today. The best offensive defensemen in the league when I started watching hockey was Mike Green & if you look at the goals he scored in his record breaking years, it's mostly off cycles with him finding the soft spot in the defense. If he was scoring off the rush, it was as a passing option rather than him carrying the puck into the zone himself.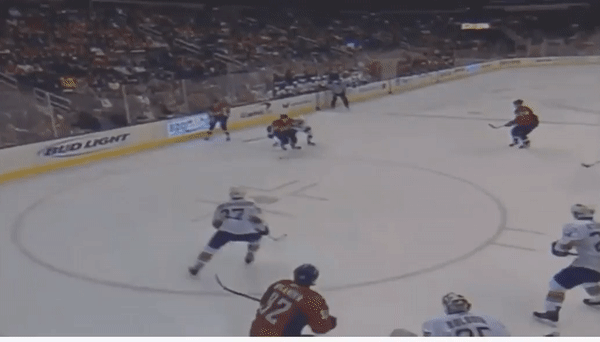 This is why Erik Karlsson won so many fans over so easily when he came into his own. He was an incredible skater with tremendous vision & puck skills combined with no regard to the traditional responsibilities of a defenseman. The end result was a shift in how much leeway defensemen are given with the puck in the neutral zone.
When I did my 2013-14 zone entry tracking project, most defensemen dumped the puck into the zone once they got the red line, only carrying the puck on about 20-percent of their entries. The league average now is still kind of low (31-percent), but it's a pretty big increase from where we were before. Teams are placing more emphasis on attacking off the rush now & having a defenseman join the play is an effective way to get through a forecheck. No one exemplifies this better than Nashville's Roman Josi.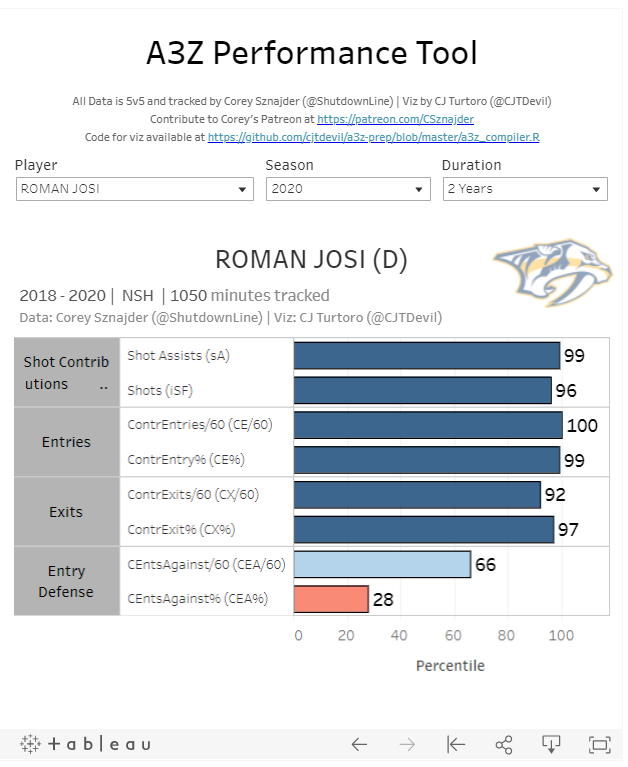 What makes Josi such an interesting player to me is how much of, well, everything runs through him in Nashville. They are the only team in the league to have a defenseman lead their team in shots, shot assists (i.e. passes leading to a shot) & zone entries, categories that are typically dominated by forwards. Evaluating defenders based on this alone is a tricky game because, on the whole, they're not generating that many entries compared to forwards. So a defender who carries the puck into the zone on 60-percent of his entries doesn't mean a whole lot if he's averaging 2-3 per game. Josi (and Karlsson back in his Ottawa days) are the exceptions. It's also a give-and-take game based on which forwards they're on the ice with. A defender joining the rush can be a very effective tactic if it's creating an odd-man situation or taking attention away from better players on the ice. If they're just entering the zone & keeping the puck along the wall or settling for low percentage plays, well then it's kind of a lost cause.
Mike Green was such an effective offensive player because he was the trailer that got lost in coverage while others led the rush. Karlsson can do both and he was the rare player who actually dangerous from the point. When dealing with a player like Josi, you're going to have a mix of both. He's not a particularly great finisher, but he is usually one of the league leaders in goals from defensemen because he shoots from everywhere. I always wonder if having one guy control so much of your offense is the best way to optimize your team's results but it's not like Josi is just throwing the puck away or settling for bad shots. In fact, it's almost the opposite.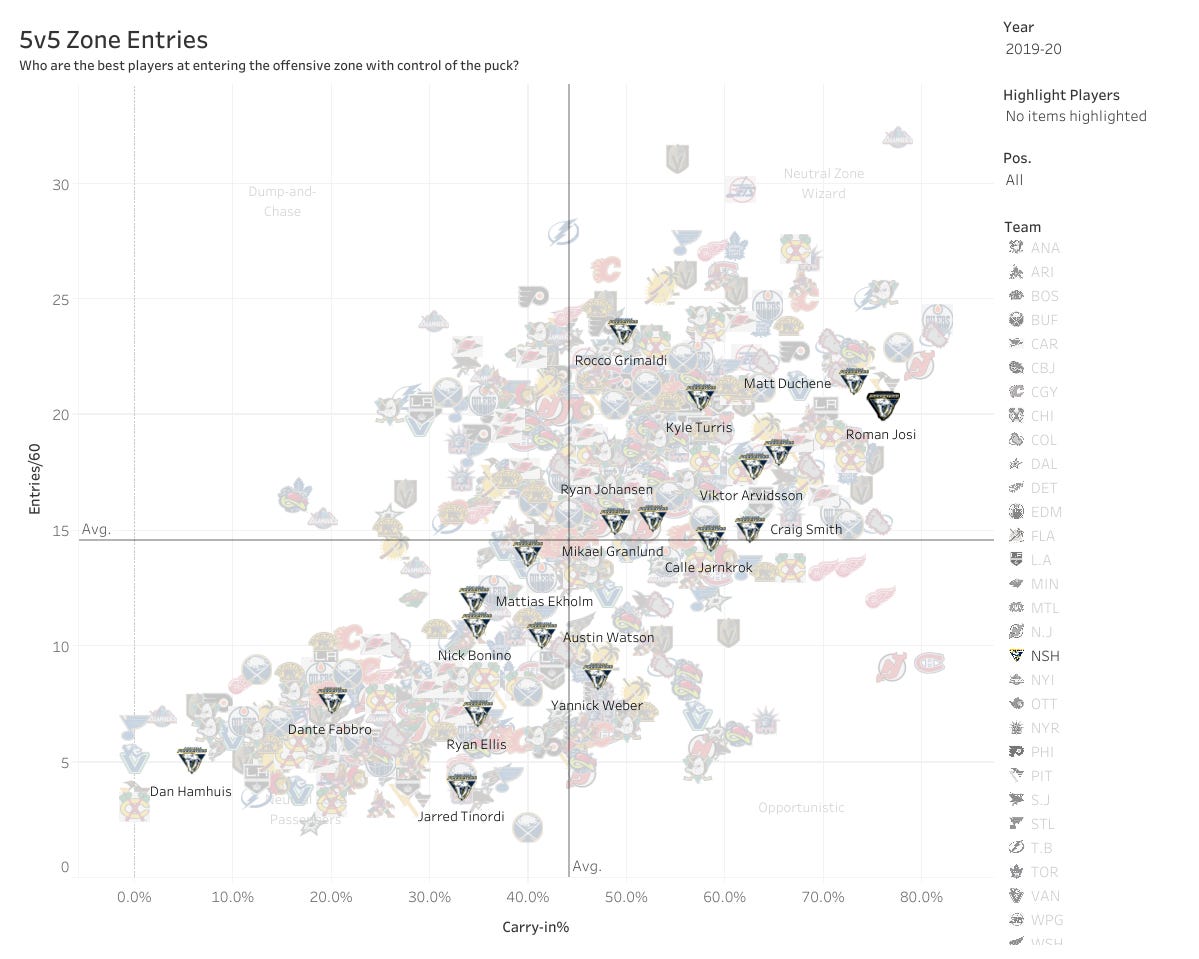 Josi is on an island when you look at how his stats compare to other defenders. Compared to everyone else in the league, he's with first liners & neutral zone monsters like Jack Eichel. Not only is he one of the best in the league right now, he's one of the best that I've ever tracked when it comes to getting the puck up ice & generating shots (which is only four seasons, but still impressive). What's crazy is that I don't think Nashville was even close to maximizing what they could out of Josi's play. As impressive as his entry/exit stats are, his own shooting percentage is pretty average and their power play was pretty mediocre (again). What's stopping them from using Josi as their Mike Green having him get lost in coverage instead of reverting to shots from the point? Or even using him lower in the offensive zone on the power play?
It's also worth noting that 26 of his 91 shot assists that I tracked went to his defense partner, Ryan Ellis, which means he could be just accumulating a lot of d-to-d passes at the top of the zone that only result in a shot from long range. This is only accounting for a quarter of his assists, but it goes to show that there's more than he can do optimize his results even if he is putting up ridiculous stats. He also has 32 unassisted shots, which usually aren't scoring chances unless it's off a rebound. I feel like that's something that can be improved on when you look at how he patrols the offensive zone compared to Green.
I do wonder what the next step is with players like this because the drop off from Josi to the next d-man in terms of entries and offense is so large. Josi enters the zone as often as a first line forward while other younger guys like Miro Heiskanen and Cale Makar have only 4-5 entries per game but are very effective with the few opportunities they do have. Then you have defensemen who like to rush the puck, but only get 1-2 entries per game and aren't as effective at making the second play after gaining the zone (see Matheson, Mike). Every team has a player like this now and I'm interested to see what the Makar/Heiskanen/Quinn Hughes group brings to the tables as far as changing the way defensemen play.
We've seen a small wave of this already. I'm not sure if guys like Nate Schmidt & Dmitry Orlov would be anchoring shutdown pairs like they have the past few years. I think back to how coveted Keith Yandle was around the league not too long ago, a swift skating, puck-mover that would lead breakouts and get you points on the power play. Now, this is what we expect out of most defensemen so a guy like Yandle is less-sought after because we are less enamored with points and expect players like him to be able to hold their own defensively. Same goes for players like Nick Leddy & Brandon Montour, who are very good at moving the puck up the ice, but have no real results to show for it. We're going to see more players like this come through the ranks and there's going to be more misses to go along with the home runs like Hughes & Makar.
I tend to think that most defensemen are the products of their environment & the forwards they're on the ice with rather than the drivers of results. A player like Josi is different and I'm interested to see if anyone from this next group can take cue from him. Buffalo invested a first overall pick in Rasmus Dahlin expecting him to be this type of player and while he's had a couple of nice seasons, he hasn't separated himself from the rest of the pack as much as I hoped. Maybe that will come with time. You've seen glimpses of what he can do, but I wonder how much better off Buffalo would be if they just turned him loose and played him more than 19 minutes a game. It's tough to make much of an impact in transition if you're only getting one or two entries a night & shooting from distance on your other opportunities.
He had 40 points in a shortened season even with these limitations, so there's potential for him to have a bigger impact if Buffalo decides to unleash him. Same can be said for Cale Makar, who might have even more goal-scoring potential with the talent he gets to play with in Colorado. Thomas Chabot plays a ton of minutes on an awful Ottawa team, what else can they do with him as that roster improves? Miro Heiskanen leads so many rushes for Dallas, yet the Stars don't capitalize on a lot of these plays because the forwards usually stay back when he activates. So much of Vegas' offense runs through Shea Theodore, is there more than they can get out of him beyond point shots?
It's an exciting time for young defensemen right now and I hope we see more players break the traditional mold because that makes the game more interesting to watch and analyze.
Thanks for reading! More to come on Tuesday!